Wishing Sheena a Happy Retirement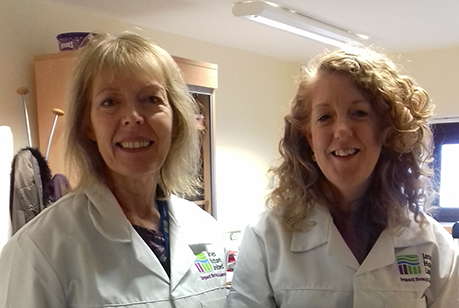 Sheena, above left, with Claire.
Mylnefield Lipid Analysis and the extended team at James Hutton Limited and the James Hutton Institute, will soon bid a fond farewell to a team member who has become a familiar face to many of our customers over the last two decades. Sheena Rowbottom will hang up her lab coat for the last time on the 29th of March as she sets off to enjoy retirement in rural Aberdeenshire, in the North East of Scotland, with soon to be husband, Tony.
Sheena's time at Mylnefield Lipid Analysis began in September 1997 when she joined the unit as maternity leave cover and she has been with us ever since, part-time at first and in a full-time capacity since 2001.
Sheena's scientific career began in 1973 at the College of Agriculture (now SRUC), Edinburgh, working in spectrochemistry, analysing soils and plants. After five years, Sheena moved on to enjoy a two-year post in clinical chemistry at Inveresk Research International (now Charles Rivers) and then a further ten years in biochemistry with the Department of Medicine at Edinburgh Royal Infirmary.
In 1991, Sheena and her family moved to Dundee and there she met, now Head of Mylnefield Lipid Analysis, Claire Traynor in 1993, when they both worked at the water services department of Tayside Regional Council. A few years later, Claire encouraged Sheena to apply for the maternity cover position at Mylnefield Lipid Analysis.
Claire and Sheena have shared many career and personal highlights over the years and enjoyed many happy times in the lab.  Things have changed quite a bit in Sheena's 21 years with Mylnefield Lipid Analysis.  From a team of 1.5 FTE in 1997, there are now nine members.  Sheena recalls in her earlier days, there was lots of manual routine analyses, lots of titrations and a lot more wet chemistry in general whereas today, just about everything in the lab is automated. When Sheena started, there was only one GC, compared to seven now.
Some of the more unusual, or challenging, analyses that Sheena has seen over her years at Mylnefield Lipid Analysis include extracting lipids from fruit flies the size of a pin head, blood lipids from mouse feet and fish roe sacs, blended into a 'fishy porridge' for extractions.
Sheena is most proud of work she has done on blood studies to support the efficacy of nutraceutical ingredients, some of which have gone into supplements to support schizophrenia sufferers and for the symptomatic relief of Huntington's Disease. She also talks fondly of the excellent reputation that the laboratory has gained for Thin Layer Chromatography which has secured the team a great deal of repeat business from some big names in the pharmaceutical industry in the last two decades.Sheena says the thought of retiring is scary but exciting. She is looking forward to trying new things, just seeing what happens and most of all marrying Tony in June after an unexpected, whirlwind romance.

All of us would like to wish Sheena well in the next chapter of her life and wish her many happy adventures ahead.  Claire said, "Sheena is a highly skilled analyst and has been an integral part of Mylnefield Lipid Analysis.  She has made a huge impact to the success of Mylnefield Lipid Analysis over the years, through her unfaltering dedication and commitment to the business and customers and is an inspiration to her colleagues.  Sheena will be sorely missed.  It's not going to be quite the same without her.  Personally, I have loved every minute of working with Sheena and I will be very sad to see her go.  I wish Sheena a very happy and healthy retirement."