Latest News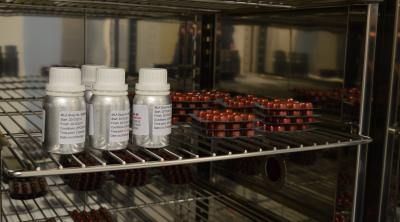 Mylnefield Lipid Analysis is pleased to offer a discount of 20% for all stability storage bookings during 2021. The discount will be applied to storage costs for the duration of the study.

View All Case Studies
Featured Case Study

In 2009, Mylnefield Lipid Analysis was approached by Natural Nutrition (subsequently EPAX and then Trygg Pharma), to conduct stability testing throughout shelf life analysis for a newly developed compound.

Twitter feed block
RT @lipidmaps: **Job opportunity** We are recruiting a full time web developer to support our databases and provide core support. You will…

RT @lipidmaps: Did you know that we send out monthly updates to those who have subscribed? If you would like to receive our monthly email h…

RT @lipidmaps: For July's #LipidoftheMonth we commend to you Commendamide

(or maybe the bacteria in your gut do!)

RT @lipidmaps: DHA is the focus of Bill Christie's thoughts in today's #LipidMatters. They include this new structure of the transporter wh…

Thanks to everyone that attended our webinar today! If you couldn't make it, but would like to hear the presentatio… https://t.co/cjOSwvbHIl

Our first #webinar takes place tomorrow! It's not too late to sign up. Speakers are Claire Traynor, Head of Mylnefi… https://t.co/yZHDXkEyu2

RT @JamesHuttonLtd: We're so happy that we'll be able to share our new #Raspberry varieties with more people this year! We'll be sampling a…

Our #Webinar takes place this Friday, focussing on #QCTesting of #Lipid #Fats #Oils products & identification of as… https://t.co/dFT2Imnn1U

RT @lipidmaps: Bill Christie identified oxo fatty acids in cheese some time ago, but a recent paper suggests they play a role in human heal…

Although no longer in the EU, we still can analyse samples to #EuropeanPharmacopoeia methods following the… https://t.co/9AJARHiu7M

Our forthcoming #Webinar will now take place on 25/06. Focus is on quality control testing of #lipid products & ide… https://t.co/oJ2eT8pZbU

Don't forget! We're hosting a webinar, 08/06. Focus will be on quality control testing of #lipid products & identif… https://t.co/G9G5Si6afd