Mylnefield Lipid Analysis claims first place in prestigious proficiency testing programme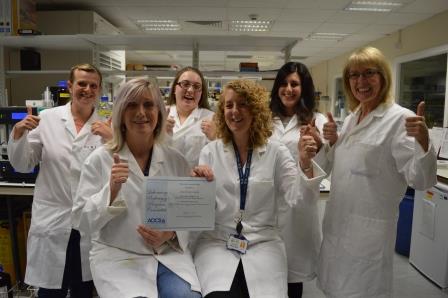 James Hutton Limited's dedicated lipid laboratory, Mylnefield Lipid Analysis, has claimed first place in the GOED Nutraceuticals Series of the American Oil Chemists' Society (AOCS) Laboratory Proficiency Program (LPP), the world's most extensive and respected collaborative proficiency testing programme for oil and fat related commodities.
The AOCS LPP encompasses two rounds of testing during a 12 month period whereby participants use the same standard GOED analytical methods on the same samples and the accuracy of results are worked out against a number of parameters.  38 laboratories world-wide submitted their results for the tests, of which Mylnefield Lipid Analysis came out on top.
Following notification in December 2016 that the Dundee-based laboratory had scored highly in the first round of testing for the AOCS LPP, Claire Traynor, Head of Mylnefield Lipid Analysis, and her team of five analytical chemists were delighted to receive a letter last month informing that following the second round of the programme, they had come in first place overall.
The result came after the release of a white paper compiled by Mrs Traynor and consultant to Mylnefield Lipid Analysis, Professor Charlie Scrimgeour, which identified Mylnefield Lipid Analysis's preference of using European Pharmacopoeia methods for the analysis of fish oil concentrates, such as those tested in the AOCS LPP.
Mrs Traynor said: "Coming first place in such a respected programme demonstrates the high quality and standards of our laboratory and our analysts and we were ecstatic when we heard the result. All of the team takes part in maintaining methods and equipment in the lab and it's testament to their hard work on every sample, not just the excellent performance achieved in this proficiency testing programme.
"I think our placement in the programme goes a long way to maintain our excellent reputation as a leading international laboratory for lipid analysis. With over 20 years of lipid analysis experience, we are specialists in what we do and the result of this programme proves that we really do it well."
Mylnefield Lipid Analysis was persuaded in the first instance to take part in the AOCS LPP by customer Ronald Pott, QC Manager of Bioriginal Europe/Asia B.V. in the Netherlands.
Mr Pott said: "Bioriginal Europe/Asia B.V. has used Mylnefield Lipid Analysis for analysing fatty acid profiles for many years.  The laboratory's participation in the AOCS LPP is important for us. It helps to demonstrate to our suppliers and customers that the laboratory we are using is doing their work correctly and it provides a reassurance that we receive consistency of results.
"This is essential because the fish oil blends we create for our customers have very narrow specifications for fatty acids profiles. For that reason I am really pleased that we can show our suppliers and customers that the lab we are using has achieved first place in the AOCS Laboratory Proficiency Program."
Tests on the marine based oils covered: GOED Monograph Fatty Acid Composition (Ph. Eur. 2.4.29) Cd 3d-63 Acid Value Cd 8b-90 Peroxide Value Cd 18-90 p -Anisidine Value. Analytical Chemist, Lita Kelly, carried out the testing at Mylnefield Lipid Analysis.
The white paper Quantifying LC-PUFA in fish oil concentrates and algal oils can be viewed here.